There are three reasons for which a combination of prehistoric species may be impossible:
1) TEMPORAL
When the species are of different ages; this kind of error is called an anachronism.
For instance, grasses appeared in the Early Miocene. Nevertheless, it is fairly easy to find stamps showing dinosaurs and other Mesozoic creatures together with grass.
Another example is the combination of Tyrannosaurus and Pteranodon. At first sight, this would seem perfectly all right: both occurred in North America during the Late Cretaceous. But a closer look reveals that while Pteranodon has only been found in rocks dating from the Santonian (middle Late Cretaceous, about 85 million years ago), Tyrannosaurus dates from the latest Late Cretaceous, 65 to 70 million years ago.
2) GEOGRAPHICAL
When the species lived in different areas. Maybe this is a surprise, but the combination of Tyrannosaurus and Pteranodon (see above) is also unlikely for this reason. Fossils of the latter are found in Kansas, while Tyrannosaur fossils are found in Montana, Wyoming and Alberta (Canada).
3) ECOLOGICAL
When the lifestyle of the species are so different that they would never have occurred together, or would not have interacted as they are shown.
Yet again, Tyrannosaurus and Pteranodon provide an example: the first lived inland, the second hunted fish and likely only landed on islands to rest and breed.
A number of times, small hunters (ornithomimid dinosaurs, Archaeopteryx) are shown catching dragonflies. In reality, this is extremely unlikely because dragonflies are exceptionally good fliers with acute eyesight. Recent dragonflies are not even hunted by swallows, although these are quite able fliers themselves. Fossil dragonflies closely resemble Recent forms, and were undoubtedly equally adept at escaping the attentions of predators.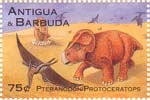 Pteranodon lived in North America in the middle part of the Late Cretaceous, Protoceratops is a central Asian species living during the middle part of the Cretaceous.


Struthiomimus shown with a dragonfly in its mouth, an unlikely catch.